The Way of our Ancestors
Authorised by the Camino Society of Ireland, the 29km Slí ár Sinsear trail forms part of the Celtic Camino – a network of qualifying trails needed to complete the Camino de Santiago (Way of St James) pilgrimage from A Coruna to the cathedral of Santiago de Compostela in Galicia.
Starting in Glenbeigh at the Church of Saint James, the route largely follows the Kerry Way southwards towards Cahersiveen, taking in the ancient pilgrim path to the summit of 690m Cnoc na dTobar, a sacred site since prehistoric times.
Long before the arrival of Christianity, the mountain was used for assemblies, and especially the harvest festival of Lughnasa.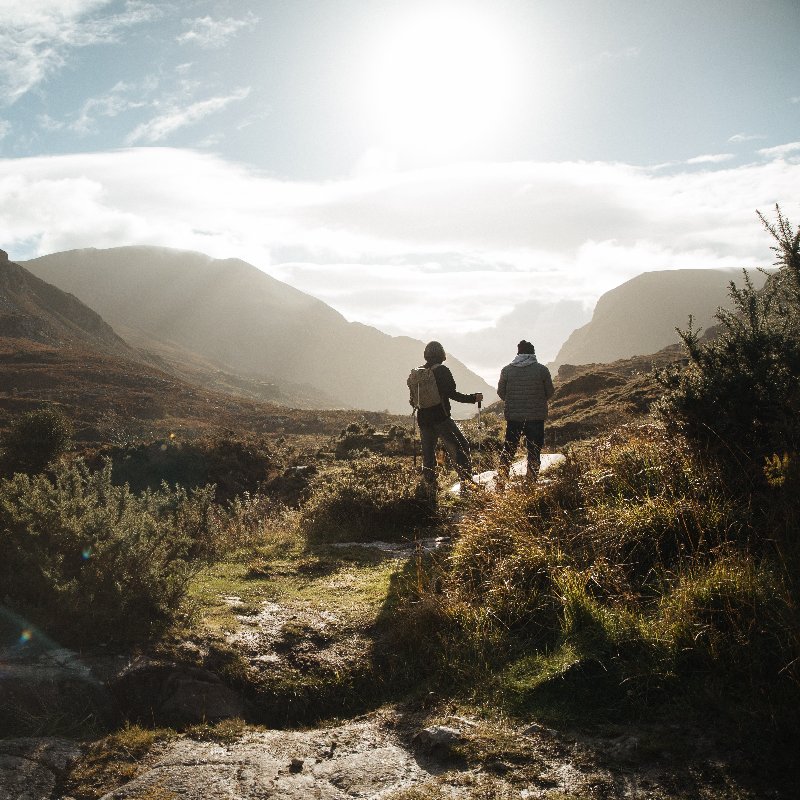 Make an early morning start from Glenbeigh's Church of Saint James
Follow the Ring of Kerry road for 300m
Leave the road at the parking area 300m past the River Behy
Follow the ancient paths and old coach roads of the Kerry Way
Break off in Kells if you want to take two days for the route
The Way of our Ancestors
Reeks District
The following are recommended: comfortable walking/hiking boots and socks, head covering, gloves, fleece, waterproof jacket and over-trousers.
Is the route sign-posted?
Yes, but a guidebook and maps are recommended.
Maps numbered 78, 83 and 84 in The Discovery Series produced by Ordnance Survey Ireland are the best ones.
How do I register for a Celtic Camino?
Get your Camino passport from the Camino Society of Ireland. Their site has full details.
Escape to the Heart of the Kingdom, home to Ireland's highest mountains, darkest skies and cleanest air
Escape to the Heart of the Kingdom, home to Ireland's highest mountains, darkest skies and cleanest air